the Ian Kitching take,
and no herds of wild ostriches
here whatsoever
and definitely no rabbits
no...not a bucket of gorillas,
but the fully scanned insert booklet
from the Bonzo's classic L.P
a word of warning
alot of this site is in Japanese.
the graphics, though, are wonderful
and not a single mention of rabbits
in the same series as
the Booklet of Gorilla
the same conditions and
recommendations apply
and...it is not edible, despite
continued mentioning of doughnuts
nope, no rabbits here either
the Bonzos, Neil Innes,
the world, and other related idiocies
and no rabbits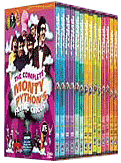 related lunacy links
never knowingly over-rehearsed
and the lunacy contiues. and, Louise,
it's all your fault....
The Bonzos were the
resident band on this
precursor of
Monty Python's Flying Circus,
also starring the newcomers
to TV, Eric Idle, Terry Jones,
Michael Palin, David Jason
and Denise Coffey.
when you think extremely silly
what do you think of?
well, we mean apart from THAT!
"If there was any influence at
all [on The Bonzo's]
it would be The Alberts or
-Vivian Stanshall
The Alberts were the first
of the anarchists
music groups and had to
be seen/heard to be believed!
two Rutles links
one official the other not
says it all, doesn't it?
The Rutles are
A legend, a living legend
that will live long after
other living legends have died.
the semi-legendary Prefab Four
who made the sixties what
they are today!